It's no secret that social media has disrupted the digital world. Whether that's for the better or worse is a matter of personal opinion, but it's managed to turn marketing strategies upside down and caused marketers to think in ways they've never thought before.
Customers can now experience brands 24 hours, 7 days a week and with over 3 billion users, almost half the world's population, doing just that, it's a scary thought for those who haven't quite colonised in the social world. But before diving in head first, it's integral to understand what social media and marketing actually are and how they can harmonise with one another.

What is social media?
Definition:
social media
noun
"Websites and applications that enable users to create and share content or to participate in social networking."
As a term social media is very broad, and when you ask most people, their minds will automatically drift to the social powerhouses of Facebook, Twitter and YouTube. They're platforms that users can express their opinions, find inspiration and make a name for themselves. It's a place that bears a resemblance to New York with its constant 'on-ness'; whatever time of day it is, there will always be someone out there reading, liking, watching and sharing.
What is marketing?
Definition:
marketing
noun
"the action or business of promoting and selling products or services, including market research and advertising."
Marketing is a practice that focuses on persuasive communication, and could be argued that it dates back to civilization on the streets of Rome, where traders would flog their goods at market. A loose connection maybe, but the essence of marketing is still there, just the techniques have evolved as time has passed. Brand representatives may not stand in the streets physically shouting out why you should buy their product, but through different mediums and the marketing mix, they are still trying to capture your attention and reel you in.
How does social media and marketing work together?
In the modern day, social media and marketing go together like peanut butter and jelly, salt and pepper, beans and toast- you get the idea. They allow you to reach new heights with your marketing strategy and add that extra oomph to your campaigns.
Disrupt the Noise
Brands have always found a way to disrupt the marketplace and make some noise to attract attention to themselves, but social media gives you the opportunity to amplify that and give even more people something to talk about. It gives you the chance to rattle up your competitors and find new ways to get in front of those who were once loyal to your industry rivals.
BrewDog are a good example of this from this year's general election. This beer purveyor wanted to predict the outcome of the votes with a more "honest" exit poll. How? By offering a free pint of its Punk IPA to anyone who voted. All voters needed to do was take a selfie outside their polling station (slightly controversial after 2014's warning from the Electoral Commission against voting booth selfies) and then share their snap with staff members in any UK BrewDog Bar.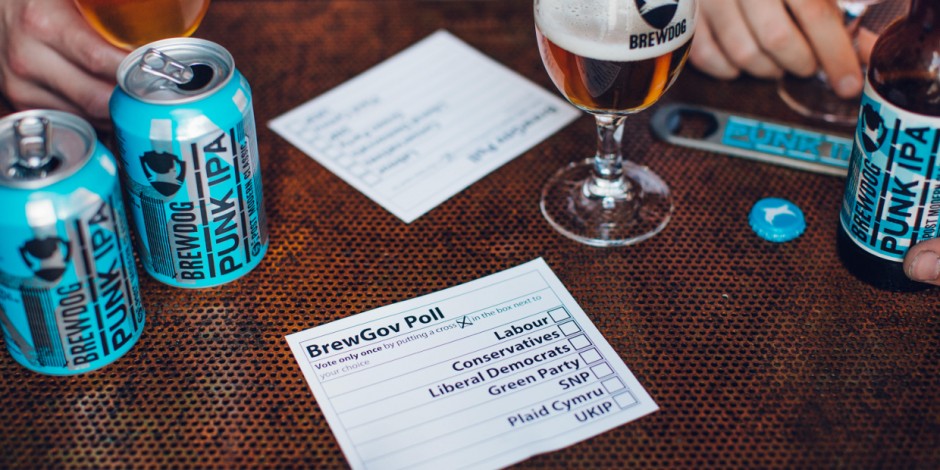 Increased targeting
Social media allows you to take every promotional message you're distributing and place it directly in front of your 28-year-old, shoe-loving, make-up obsessive user. With print, radio and broadcast you have always been able to tailor your message to an audience to a preferred location or specific demographic, but with social media you can get so much more granular.
Take Facebook for example, if you're a boutique bridal gown company, you can reach an audience of newly-engaged couples that have been engaged for 3 months, 6 months, 1 year, who live in a certain area and have interest boutiques.

Real Relationships
Not only does social media increase your targeting tactics, but allows you to build up a relationship with your most loyal customers as if you were BFFs, as well as getting to know anyone new. By utilising these online platforms, you can let your personality shine through beyond traditional marketing stunts. You can create conversations around taboo topics through content distribution, understand what your customers want from you and your brand by asking questions and build connections with those who care the most. And the beauty of it all? Once you've built an engaged following, they'll do the talking for you, and Samsung Canada know all about that.
Meet Shane. He was already a proud owner of many Samsung products, but wanted to try and get his hands on the new Galaxy S3 by drawing a picture of a dragon. (Yes this was 5 years ago!) Unfortunately for him, Samsung replied saying they couldn't give out a free S III, but they did however draw him a picture of a kangaroo on a unicycle in response to his dragon picture. This amused him, and he sent in a screenshot of their reply to Reddit with the caption, "Well Samsung Canada has won me over". For obvious reasons, this went viral, with global coverage of the dragon and kangaroo on a unicycle. A few months passed, and after maintaining some contact with representatives at Samsung, he received a customised S III with a customised background in customised packaging.

Reputation Monitoring
By having a presence on social media, you can not only communicate your marketing messages, but communicate with consumers about any concerns or complaints they may have. There is often the common misconception that once you're on social media, there's no going back, that every single comment or message will be a complaint. We're not suggesting that you won't get a backlash, everyone loves a good moan on Twitter on Facebook (#guilty) but by being active on social you can control how your brand responds and change the experience they've had from a negative to a positive.
Fishy Sainsbury's is one of our favourite examples of this. Marty Lawrence was just an ordinary Sainsbury's shopper and decided one day he'd tweet this superstore with a fishy pun about how he struggled to buy a piece of cod because it had no 'bar-cod'.  Whilst it wasn't a direct complaint, and one that could have been solved in store, Sainsbury's still took the time to reply and have a little fun with it. 3 hours later, and a handful of off the scale puns, they'd made a loyal shopper out of Marty.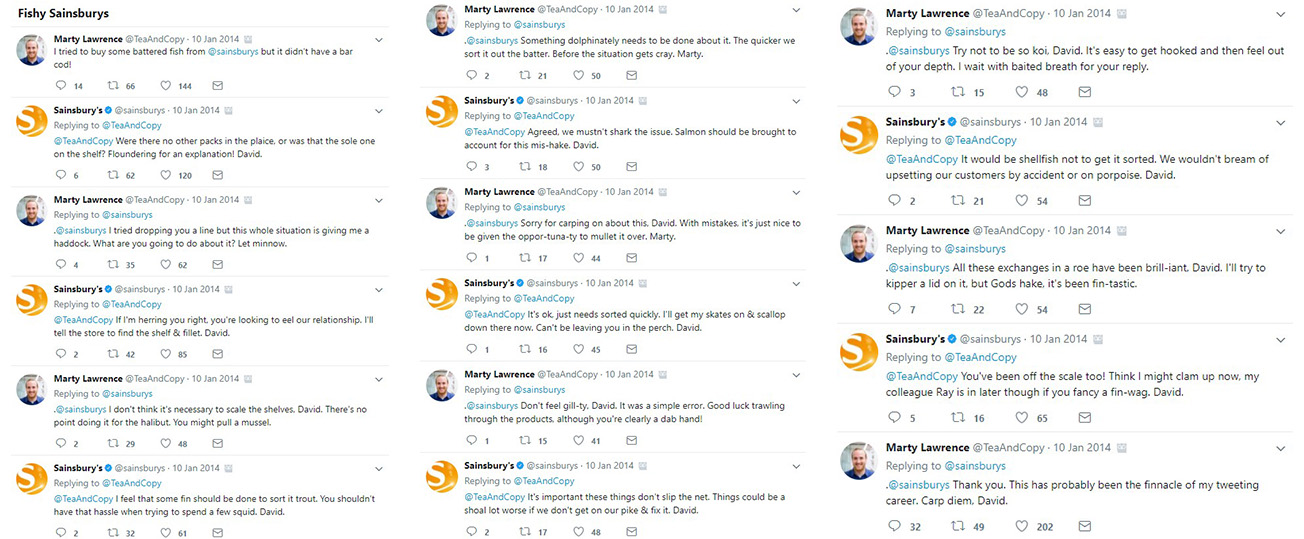 Other than build brand awareness, the ultimate goal for pretty much any company is to increase sales, we'd be lying if it wasn't. By including social within your marketing strategy, you'll be able to do just that over time. (Not overnight, but nothing happens overnight!)