We've done it, we've survived winter. Officially, the weather may still be throwing cold temperatures at us, but that sunny day we had last week has geared us up for t-shirt days and Frisbee lunchtimes. We had a fun-filled February with new monitors that made the development team geek out, our first exhibition of the year and some interesting pancake flipping techniques on Shrove Tuesday. This was all accompanied by some laugh out loud moments and loved-up feelings thanks to a handful of brands and their latest campaigns.
Best of the Super Bowl
February kicked off with one of the most anticipated events in the advertising industry- the Super Bowl. Millions of dollars are poured into the creation and placement of these adverts meaning they have a lot to live up to, so we've picked our favourites from this year's game.
#ChainedToTheRhythm
We all love a good social teaser, especially when it's one of your fave artists returning from the depth of silence, and last month Katy Perry did just that, but took it one step further. On February the 7th she Instagrammed a picture of a rolling disco ball, and on February the 8th she Instagrammed her nails that spelt 'Find Me' whilst she plugged a cable into an AUX point.
The aim of the game? Find the disco ball and you will be rewarded with a preview of her brand new single, Chained to the Rhythm. The disco balls could be located via the bespoke website, so all you needed to do was beat your fellow Katy P fans. Whoever came up with this PR stunt, we applaud you.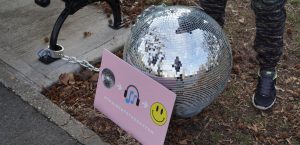 A Date With Idris Elba
February was all about spreading the luuurve, and things certainly got a little hotter when we found out Idris Elba was on the market. As part of a charity campaign with Omaze, Idris Elba gave one lucky fan the chance to be wined and dined at his favourite restaurant, then be treated to stay in a 4* hotel. Jealous doesn't even cover it.
To make this campaign even better, Idris sat down to receive some dating advice from eight young children who gave him the valuable advice of agreeing with everything she says, and avoid eating beans, because you know what they say about beans.
La La Moonlight
We've all been there. You're standing on the stage, knees trembling hands shaking, and for a moment you forget what you're meant to be doing and word vomit. Luckily for us, this only happened in front of a room full of people, who will have forgotten about it when they wake the next day. Unfortunately, for Faye Dunaway that wasn't the case. On stage at the Oscars, in front of millions of people, she falsely announced La La Land as the winner for the Best Picture and Twitter went wild. Below, we've included a few of our favourite reactions, raising our glasses to the quick-thinking caps of those behind the Tweets.

Anti-Hipster Coffee
Some days, all you want is a simple morning coffee, but there are 10 different types of beans to choose from and 3 different ways you can have it made- it's enough to make you pull your hair out, especially if it's a Monday morning and you're not quite ready to take on the world yet.  (Unless you're like me and these types of places are right up your street. Think of all the Instagram snaps!)
But McDonalds get you. They understand your frustrations, so to put you at ease, their latest campaign highlights just how simple their coffee is. No fancy pouring tools. No unnecessary ingredients. No quirky seating areas, and no overpriced drinks. Just coffee, the way you like it, and the way you've liked it for the past however many years.
Learn to Sign With Giphy
We love sharing a good GIF, especially alongside our tweets. Friday feeling, let's add a GIF. New client win, we need a GIF. Work night out, there's no question whether we need a GIF or not. But with Giphy's latest features, we can now learn whilst we share. Their latest addition to the GIF library has welcomed over 2,000 new GIFs that include words or phrases in American Sign Language (ASL). The continuous loop makes it easy to repeat the sign, whilst the no audio element makes it the perfect medium for sign language.
ASL is the third most used language in America, so this new extension to the Giphy library will not only empower the deaf community but give others a chance to learn a language that they someday may need to know.