Salcombe Dairy
Salcombe Dairy are a multi-award winning premium ice cream and sorbet manufacturer based in Salcombe, South Devon.
CHALLENGE
Salcombe Dairy had disjointed branding which did not reflect the quality of their product. With multiple consumer touch points, it was important to create a cohesive brand image which would help Salcombe Dairy to position themselves as the award-winning quality ice cream manufacturer that they are.
COHESIVE BRAND STRATEGY
At first, we created consistency between collateral such as price lists, product/promotional flyers, freezer graphics and signage for both the factory and customer retail outlets, to help stabilise the image across multiple assets. From this point, we progressed onto updating the brand identity, making the logo cleaner and fresher, retaining the overall design, but simplifying the colours and introducing the gold metallic pantone to support the premium feel to the brand.
The new bolder, more confident colour scheme and fonts were implemented throughout the range of customer-facing collateral ensuring reinforcing Salcombe Dairy's heritage and quality.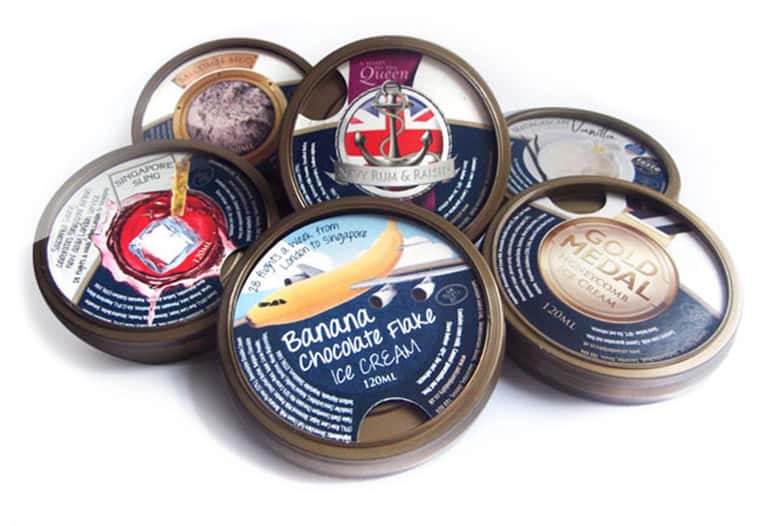 ---

---
BRAND GUARDIANS
On a weekly basis, we are briefed with creating artwork for ongoing press advertising, new signage requirements or designing artwork for t-shirts and hoodies.
On an annual basis, we travel to Salcombe to meet with Salcombe Dairy to plan the forthcoming year's marketing activity and how we are going to progress the design of assets. This includes planning the photography of products and supporting lifestyle photos.
Our overall management of the graphic design resources for Salcombe Dairy has put us in a trusted advisory role with the company, much to the point that the Managing Director will contact us for advice on plans which do not fit specifically within a graphic design remit, to ensure they fit within the brand vision.
---
OUTCOME
Our involvement with Salcombe Dairy has helped to create a cohesive brand image, establishing them with a premium visual identity which in turn has  supported Salcombe Dairy's goals to work with and supply businesses such as Singapore Airlines, British Airways, Thomas Cook, Great Ormond Street Hospital and Tate Modern to name a few.