Garbutt + Elliott
Garbutt + Elliott is one of Yorkshire's largest independent firms of chartered accountants, auditors and advisors. They provide a full range of specialist accountancy services with experienced expert advisors covering a wide spectrum of sectors.
Challenge
Garbutt + Elliott first approached us to develop a new website for them. During the initial phases of planning the website, we identified that Garbutt + Elliott needed to update their branding. Garbutt + Elliott's previous branding had its roots based on a traditional representation of accountants and the financial sector. With previously defined values of 'Forward Thinking' 'Personal' and 'Different', these values were key in defining G+E's marketing and communication strategies so it became clear their branding needed to evolve in order to successfully represent such values.
BRAND STRATEGY
As with any rebrand, we had outlined the reasons for the change of identity, choosing to evolve as opposed to a complete change, we began the process of designing a sympathetic evolution of G+E's corporate identity. Opting for a fresher and more current slab serif made the identity feel fresh and youthful, yet still fit the target demographic. Our decision to drop the '&' in the name and replace it with '+' represents not only the mathematical symbol which may seem a little obvious with accountants, but also the positive attitude and forward thinking approach G+E adopt with their organisation.
The choice of colours, Gold, Blue and White were retained from the old branding to maintain a sense of familiarity with the old branding. However, we introduced a range of colours to support service offerings, continuing with the forward thinking and different aspects from the values. With so many colour variations on offer, it was important we defined how the logo could be represented across the full spectrum, to ensure continuity.
---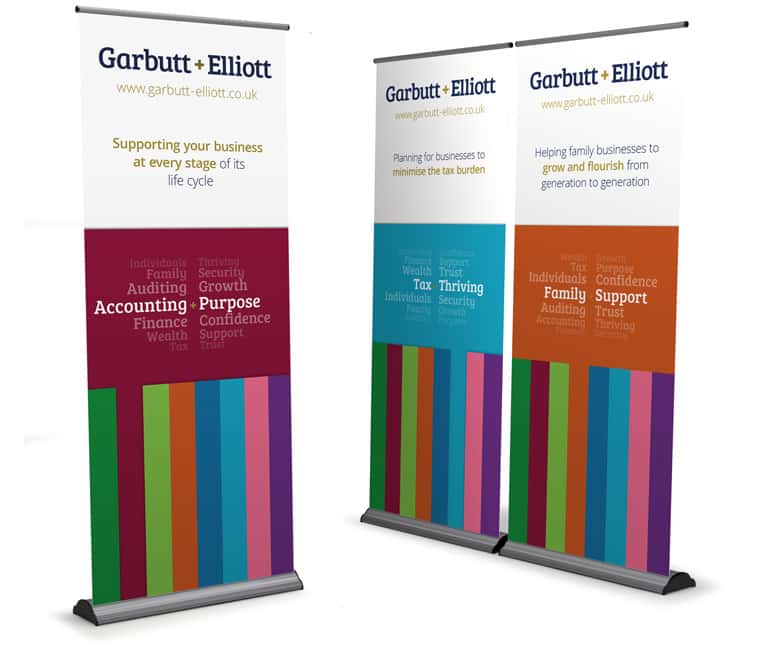 BRAND IDENTITY
Our approach to photography across the rebrand was to ensure that all photos were produced by or for Garbutt + Elliott, representing the 'personal' approach to their services, ensuring all photos are of G+E staff and their customers.
Once the new identity was in place, we then designed and sourced all relevant collateral from stationery, presentation folders, brochures, promotional items and pop up banners ready for the launch of the new updated brand identity. As part of this process, we designed and developed their new website to continue to roll out the updated branding across all areas of their marketing resources.
---
Development
We developed Garbutt + Elliott on WordPress with a bespoke theme based on Bootstrap 3.  This allowed us to capture the feel of their brand across desktop, tablet and mobile devices.  The roulette work on the homepage was particularly challenging, as this required two synchronised carousels based on jQuery cycle linked to the service pages in the menu!
The website features a 'find out more' contact form that is shared across several content pages.  This form reports which page the contact form was filled in from, which allows the customer to track the pages of their website with the highest conversion rates.
We also developed an events booking system which allows Garbutt + Elliott to create events which detail the date, venue and itinerary of the event.  These pages automatically include a booking form which emails Garbutt + Elliott details of the user who has filled in the form as well as the event that they wish to attend. This site also features two maps on their contact us page.  Below these maps are forms which allow the site visitor to fill in their postcode and get taken to Google maps to easily get directions to Garbutt + Elliott's offices.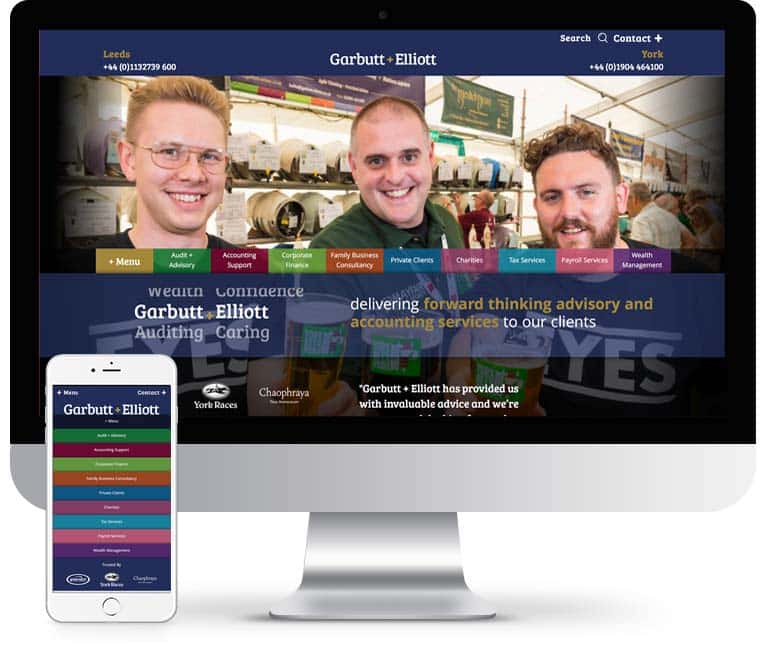 ---
Result
Since the launch we effectively work as Garbutt + Elliott's design team on a retained basis. Supporting G+E with the production of brochures, guides, exhibition graphics, hand-outs and even office interiors, maintaining regular phone and email contact with face to face briefings as and when required. Our work has helped G+E to maintain a higher profile within the area, their brand becoming much more recognisable and memorable.