Ben Johnson
Ben Johnson Ltd is a York-based company and began trading in 1855 as a printing company. It now has four distinct divisions that have been established to support workplace transformation projects and provide services to improve daily working life. The four divisions include Interiors, Technology, Recruitment and Workplace Supplies.
CHALLENGE
Blue Digital met with Ben Johnson to discuss the design and development of a new website.
The redesign packs much more information than before and is UX and SEO optimised, which will help improve Ben Johnson's online presence.
Their main objective was to create a fully functioning website that was easy for customers to explore their four core divisions.
Blue Digital proposed a new website platform to give Ben Johnson a sleek and professional enquiry-generating website. It was essential that the recommended platform was not only suitable for Ben Johnson's current needs but also allowed for future growth as the business expands. A digital marketing strategy was also recommended in order to provide an increased return on investment.

CREATIVE DESIGN
Ben Johnson's previous website was outdated and difficult to navigate. We created a design that gives each division a voice on the homepage in a very simple way, through the use of colour, imagery and bold statements. Strong imagery is key in the design, particularly within the Interiors division, and showcasing their portfolio of work. As soon as a visitor lands on the website, they can quickly and easily navigate through each division and recognises different identity  and feel, created through the use of flexible content.
The design reflects Ben Johnson's brand values and expertise, by the use of powerful impact statements. There are also clear call-to-actions placed throughout the website, with the ability for the contact information to change depending on which divisional section the visitor is in, so that visitor's can make quick enquiries to the relevant division. Trackable contact forms have been shared across different pages within the website, allowing Blue Digital and the customer to track the pages of the website with the highest conversion rates.
---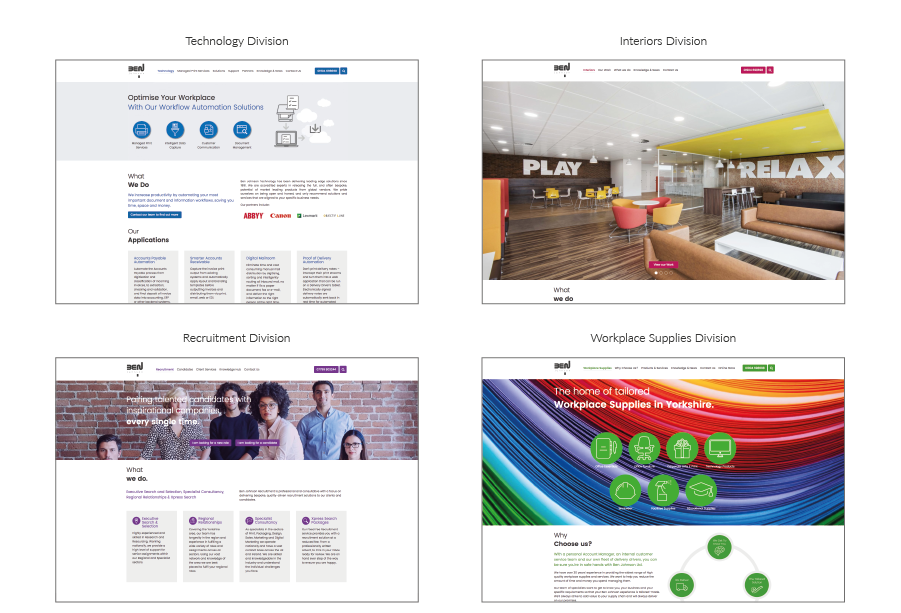 ---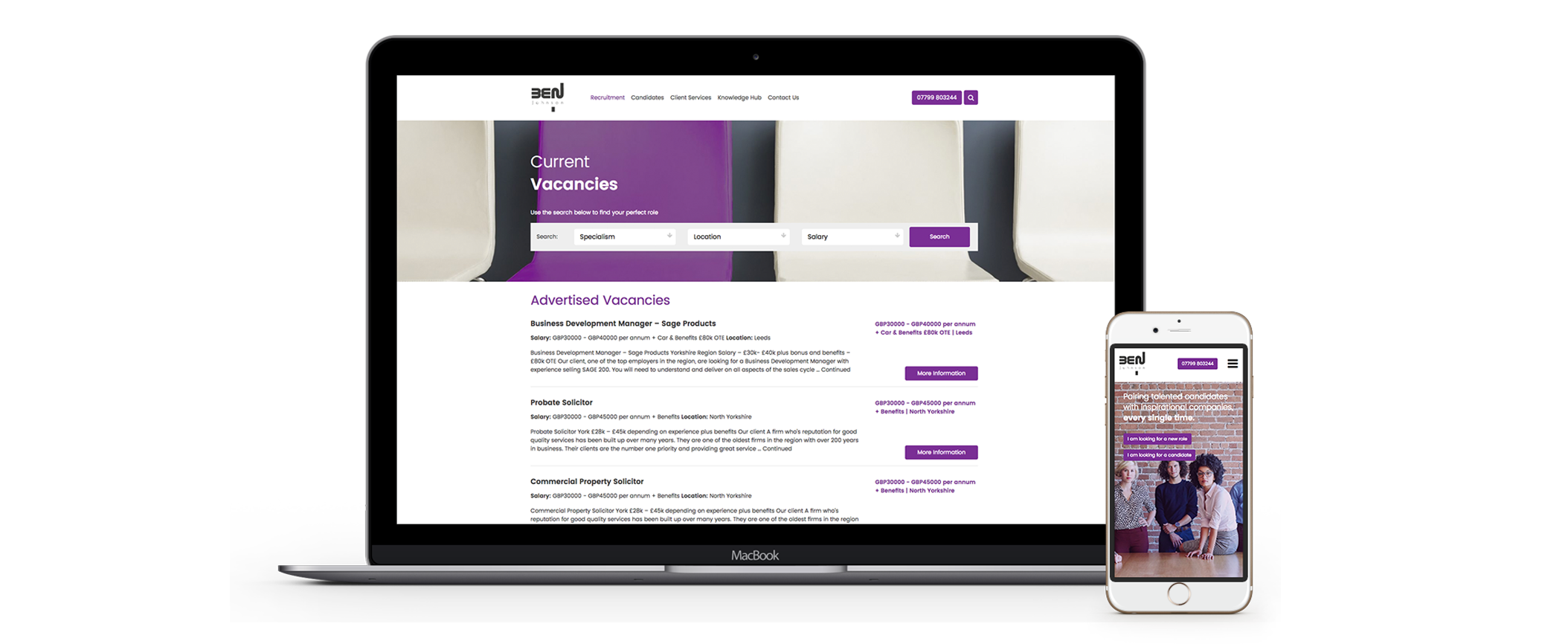 THE WEBSITE
Ben Johnson's new responsive website enables the content and layout of pages to be easily edited by using a much simpler WordPress CMS and flexible content modules. We integrated with Broadbean within the Recruitment section, allowing the job adverts and CV uploads to be managed all in one place. The website structure has been built with the search engines in mind. The optimisation will aid site visibility within search and encourage more users onto the site. Ben Johnson have also invested in ongoing Digital Marketing support to help keep the website performing at its best. Each division has its own bespoke menu, knowledge hub and news section with a structure in place to aid with online visibility. Whilst each division is different, they work together overall to unify as part of the Ben Johnson brand.
To find out more about our digital marketing services, you can see them by clicking here.
---
Solution
We modernised and simplified the Ben Johnson allowing their target audience to easily find what they are looking for and guide themselves through to each division.