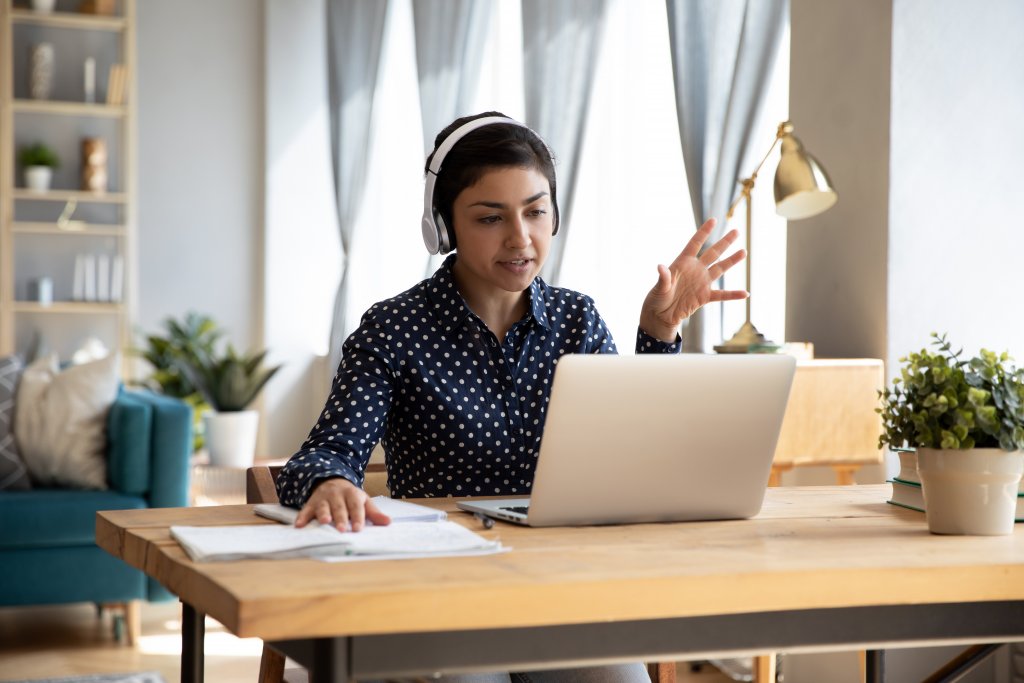 On 16th March 2020 the UK government instructed employees to work from home (WFH) if they could. Without knowing, it seems this advice has changed the world of work forever.
WFH is the new normal
The pandemic has normalised remote working and seen new buzzwords such as 'hybrid working' enter the workplace.
Whilst WFH was meant to be a temporary measure, 79% of senior business leaders agree that people will never return to offices at the same rate as before the pandemic. Many workers and business owners agree that WFH allows for a better work-life balance. In turn, this leads to higher productivity and higher levels of employee wellbeing.
WFH best practices
So, what's the best way to effectively work from home? Tips include getting dressed for success, sounding an alarm when it's time for a break, and ensuring you're in the right mindset. Office space and desk setup also impact how successfully you're able to work…
Everyone is likely to have their own way of WFH – some may enjoy working from the couch, while others may enjoy working from the garden. It's recommended, however, that home workers create a dedicated office space within their home if possible. This allows workers to switch off and create a physical distinction between professional workspace and domestic family space.
Most employers will provide their employees with a laptop/desktop computer, monitor, a mouse, a keyboard, and a work phone (though this isn't a legal requirement), but what else is needed to create the perfect WFH setup?
How to create the ideal home desk setup:
Dedicated desk space
Having a home office room is the ideal. This allows for work life and family life to be kept separate, however many workers understandably don't have spare rooms to utilise as office spaces. Instead, small spaces such as alcoves, stair cupboards, attic eaves and even garden sheds can be creatively transformed into workable office spaces.
If you're still unable to dedicate a space for working, try to find an area that offers suitable desk space such as a dining table or coffee table.
The most important thing to note is that whatever desk space you use, it should be of a workable height. The standard desk height in the UK is 72-73cm. Although desks of this height are found in offices all over the country, this height is most suited to people between 5'8 and 5'10 inches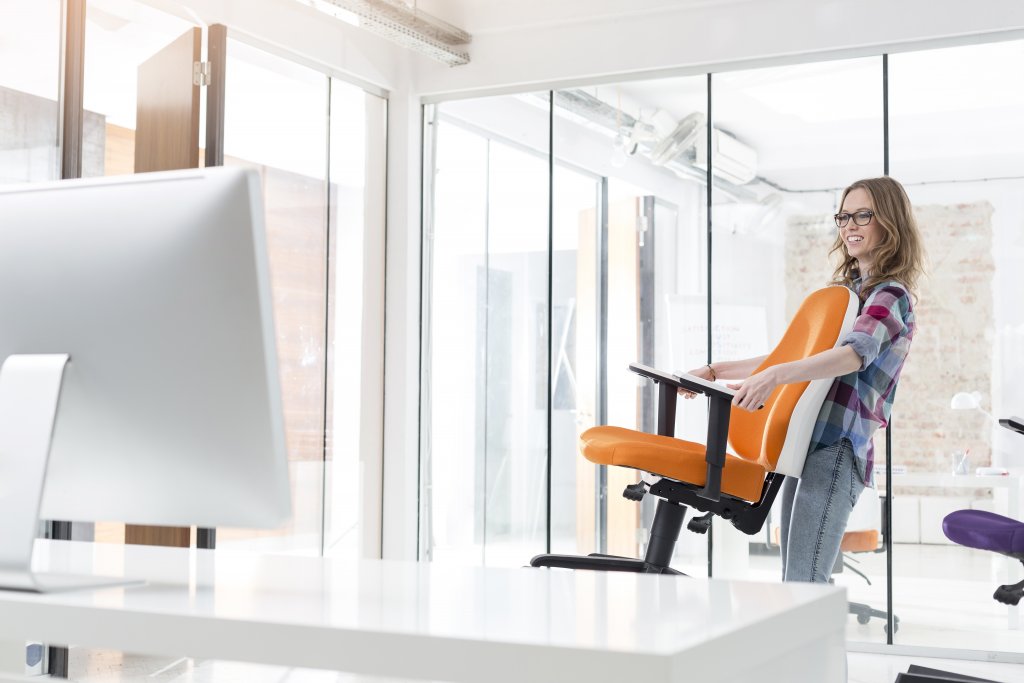 tall. If you're not between these heights, or if your desk is not of a standard height, it's important to ensure your chair is adjustable so you can work at the correct height.
Supportive chair
An adjustable and supportive office chair is vital in maintaining the correct back posture and avoiding neck and back pain. Relying on an armchair or dining room chair can lead to health issues over time.
Some professional office chairs can cost hundreds, but there are cheaper alternatives available that also offer height adjustability, lumbar support, arm rests and seat tilting. If possible, it's best to test office chairs out before you buy as it's hard to tell whether the chair will be a suitable fit from a picture.
These days office chairs aren't all black and bulky either. Specialist office chairs are available in a range of size and colour options, so it is possible to match one to your home interior!
It's also worth noting that your employer may subsidise (or cover) the cost of your office chair so it's always worth asking!
Lighting
Lighting and productivity go hand-in-hand. Having said this, lighting probably won't be the first thing you think about when planning your home office setup.
A day without natural light can play with our circadian rhythms, our mood and our cognitive abilities. By prioritising lighting, you'll be more productive and be able to focus more on important tasks.
If possible, maximise the availability of natural light sources within your office area by keeping blinds and curtains open (as long as they don't create a glare), add a lamp if you work in a dark area of your home and add an anti-blue light screen protector to your monitor to protect your eyes from digital eyestrain.
Good internet service
The average residential broadband speed in the UK is 71.8Mbps. This speed will easily allow you to connect 3-5 devices to the internet, stream videos and take part in video conferences. We'd recommend a minimum of 40Mbps for home working with an upload speed of 5Mbps or more. Any less than that and you may start to experience buffering and connectivity issues (especially if you often take part in video calls). You can check your internet speed here: https://fast.com/en/gb/.
The best internet connections are wired ones, so connect your computer to a router via an Ethernet cable if possible. This will be highly beneficial if you work with video or other bandwidth-intensive work. WiFi is more than sufficient for basic office work, such as emailing and browsing the internet.
Storage/filing system
A storage or filing system can take many shapes and forms – from a filing cabinet, to a desk drawer, to wall-mounted letter trays. Whatever system you choose, it's important to have a place to store and organise work-related documents.
Having a filing system that works for you allows for improved efficiency. It means documents can be quickly retrieved and shared if needed.
Other considerations: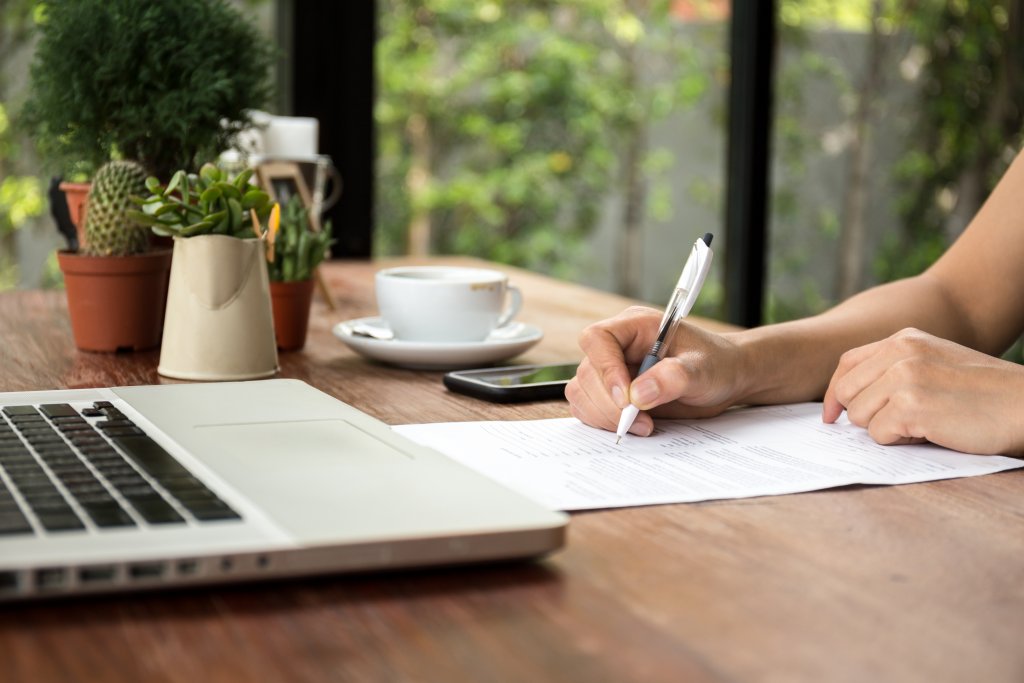 Headset
Especially important if you make a lot of audio or video calls. A headset will block out peripheral noise and lead to less distractions.
Foot rest (or even a foot hammock!)
Foot rests prevent work and posture-related repetitive strain injuries by elevating feet and legs to a comfortable height. They also improve posture and reduce back pain by encouraging ergonomic postural angles throughout the entire body.
Monitor stands
Monitor stands provide users with the ability to adjust their screen to a comfortable height, minimising any possible neck, shoulder, or back pain. They also allow users to better control the angle of their screen and avoid glare for windows or lights.
Desk mat
Desk mats ensure that leaky pens, coffee spills and writing imprints don't transfer onto your desk surface. They also provide an anti-slip surface so that your laptop, keyboard and mouse don't accidentally skid across your desk.
Desk plant
Investing in some greenery is a simple and often overlooked design feature that can breathe new life into an office space – and not just for aesthetic reasons! Bringing nature indoors ('biophilic' design) has a huge positive impact on productivity and wellbeing.
Water bottle
Hydration is key for concentration and productivity! Invest in a fun, reusable water bottle. This will encourage you to drink more and provide colour to your office space.
Stationary
Even if your work is computer-based, you'll still need a pen and paper at some point. Bright, colourful stationary is a good way to inject personality into your workspace.
If you'd like to find out more about creating the perfect WFH desk setup, please contact us – we'd be happy to help!