February, oh how glad we are to see you! We've all had a case of the post-Christmas blues, but with sunny skies and warmer weather on the horizon, we've regained that spring in our step. Luckily for us though, our January was a little more bearable than predicted, and that wasn't just because we had a second Christmas do with our friends over the road. Some of our favourite brands vamped up their campaigns last month, to help combat our winter woes.
Break In Case of Emergency
Everyone knows there's nothing better than a bowl of Heinz soup in the cold winter months to warm up your insides and beat those frosty chills. Heinz knows it too, "with a 5% increase in demand for every degree drop during soup season", so with the brains of Golin, they've pulled together a campaign that's bound to leave city commuters pleasantly surprised.
Hidden across the city of London, Heinz have installed cases containing a free can of the classic cream of tomato soup, for commuters to 'break' the glass and warm their tummies. The campaign is running until March, and will be popping up in cities across the country, so at least if the weather doesn't warm up, we have some soup to warm up.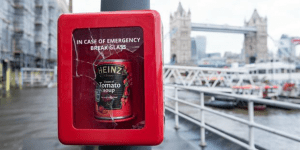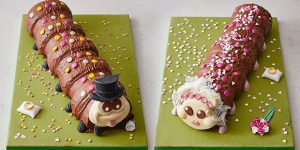 Colin gets hitched
The latest star to slither down the aisle and get hitched is in fact Marks & Spencer's Colin The Caterpillar cake. When you were younger, they were the ultimate birthday cake (and still are), so M&S have given Colin a bride for your big day.
She goes by the name of Connie, and comes in a white veil with fondant bouquet. Colin too has dressed up for the occasion with a black top hat and matching corsage. They are both adorned with wedding confetti and have matching gold rings beside them; adorable.
Unfortunately, they're not as cheap as the standard supermarket Colin, priced at £50 per character. However, when you consider the fact that they're about 10 times the size of the original Colin, you're probably getting your money's worth.    
#CrèmeEggHuntingSeason
Remember last year's super-duper-awesome Creme Egg Café that housed a giant adult ball pit and some dreamy Crème Egg recipes? Well the success of that got them thinking of what next, so this year they've made a comeback with the Crème Egg Hunter's Lodge. Debuting in the capital, before touring the country, the pop-up lodge will be running alongside their TV advert, giving Creme Egg lovers a chance to essentially, step inside the story.
You can get cosy with a Crème Egg Hunter's' Hot Chocolate or get stuck into a Gooey Crème Egg S'more. Sound amazingly sickly don't they? The best part is, all proceeds generated will be donated to the Prince's Trust Charity, so you might as well give in to your Crème Egg cravings, and forget about that New Year diet for one day.
Hashtag City
'Hashtag' has officially been a part of the English language for the past three years, after being added to the Oxford Dictionary in 2014, and it's no wonder why.  1452618736243 hashtags* are used every day on social media, whether that be part of a conversation, campaign specific or purely for the sake of hashtagging, and although many find them to be annoying or overused, they do have one great benefit- knowing what's ticking people's boxes.
Tagsandthecity.net have captured this and turned London tube stations into the most popular hashtags within 300m of the stop. #ShakeShack is taking the limelight at Covent Garden, and #bookofmormon is owning Picaddily Circus, we're just a little upset that #madametussauds is taking the limelight on Baker Street. Still, at least MI6's location hasn't been revealed.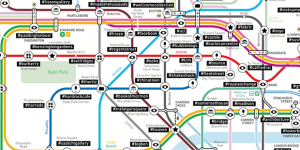 Pooches On Tour
Paws aboard! This month, the insurance brand More Than launched the first ever city tour for dogs to promote their new pet care insurance. Dogs and their humans were invited on free bus rides around London, which toured them around some of the best dog walking spots and dog friendly eateries.
They were also treated to a commentary of the history of dogs in London, which included the city's only dog cemetery, and were gifted with a travel-size box of treats and balls, perfect for jumping off at one of their many park spots.
Here's to hoping there are some more K9 bus tours planned for the future, as we know three pups that would love to hitch a ride!
Ordinary World
Great Ormond Street Hospital (GOSH) have launched a brand new campaign that explores the wonders of the 'Ordinary World'. You'll be able to queue for a bus with many other people. You may even be lucky enough to press the bell for your stop. But what about pushing a trolley round a supermarket, wouldn't that be cool?
These are all day-to-day things that we take for granted, and more often than not moan about having to do it, so GOSH want to bring viewers back to the basics, to highlight the fact that children at the hospital are dreaming about getting back on a bus, and back to the ordinary world.
Trump With Love
We've avoided the topic pretty well so far, but there's only so long you can ignore the elephant in the room. However, something that caught our eye was a nice twist on some nasty words. Launching on inauguration day, a bunch of advertising creatives knocked their heads together to come up with trumpwith.love.
They wanted to create something interactive that was different to making fun of him, as the internet has got that part covered. (Visit this website for example). So their idea was to give the user power to make Donald Trump declare messages of love, yep you heard it, love. The site houses 30 hours of footage that has been cut from his debates, speeches and interviews, and so far it's been pretty damn successful, with over 3,100 clips being created. If you get your thinking cap on, you can have a pretty good time- and it's just in time to send a Valentine's message of Trump love to your other half too!