If there was ever a week that we were running on cake, this would be the one. We kicked off Monday with our first ever Great Blue Bake Off, sobbed on Wednesday after watching the very last time we'd see soggy bottoms on the BBC, and rejoiced on Thursday when we found out there will be a Bake Off encore with a Christmas special.  However, it turns out we're not the only one's feeling devastated, with some brands saying goodbye in their own special way…
The London Dungeon
Staff who work at the BBC's Broadcasting House were in for a surprise Thursday morning, as a funeral was staged for the Bake Off just outside the building. Organised by the popular tourist attraction, The London Dungeon pulled a dark stunt for the show by sending a hearse complete with a coffin, 'RIP GBBO' flowers and mourning actors carrying Victoria Sponge's.
Whilst it's not the most tasteful stunt to pull, it's certainly in keeping with The London Dungeon's brand identity!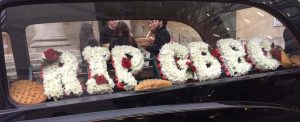 BBC Radio 1
Normally when you experience these feelings, you head to Spotify and reboot your heartbreak playlist, whilst eating a sharing bar of chocolate and watching the rain trickle down the window. But with no Bake-Off-Is-Over playlist, we were feeling pretty sorry for ourselves, until Greg James came along. This Radio 1 host didn't just tweet about his disappointment, but put his words into a song, which has helped the nation grieve.
To the tune of James Blunt's, Goodbye My Lover, Greg has pulled together the most memorable moments with a black and white montage. He sings about how we're going to miss those soggy bottoms or who's now going to tell us about the best things in bread. Not only has he included the best parts of Bake Off, and the favourite contestants, but makes a few sly digs at Channel 4, good thing he's a BBC presenter.
BBC Weather Report
Whilst we're on the subject of the BBC, we'd thought we'd share the special weather report that was broadcast on Wednesday. Yorkshire weather girl, Abbie Dewhurst, presented an under-baked forecast, with even layers of pressure and no soggy-bottoms. To see the full forecast, head on over to her Twitter page!
Blessed are the Teamakers
Cake is not complete without a cup of tea, and Yorkshire Tea have joined the ranks of Honey G and Dizzee Rascal with their latest rap advert. Colin, the IT guy, takes centre stage with his Head Brewer title, making rounds of the office tea in the morning, around noon and again at four. This cardigan-wearing, 'perfection-pursuer' drives his 'low-rider trolley' around the office, which the ladies flock to, and perfects the art of making brews. He's also managed to squeeze in a mention to the Harrogate roots of the brand with his line, '"This cup is Taylor-made like a suit from Savile Row"
As a dedication to all office tea makers, they've definitely set the standard for the office. We just hope our tea makers aren't expecting to be followed round with a brass band and party after every brew!
Macbook Pro
We couldn't not mention the latest news from Apple as it released the next generation of MacBook Pros, something a few of our developers have been eagerly anticipating. With a brand new touch bar that means we can send emojis in an instant, the best retina display known to man, and some fancy new speakers to blast out our 90s classics, the MacBook is their most innovative product yet.
However, don't get too excited. Overnight, Apple have upped the prices of all their Mac's, meaning you might need to save a few more pennies before you splash out the cash.
Hopefully, by Sunday we'll be over our heartbreak and ready to take on the week. Besides, we've got to spend the weekend preparing our pumpkin designs for some spooky lunchtime competition on Monday!
Save