What better way to celebrate Halloween than a Blue Digital pumpkin carving competition?! On October 31st, Blue Digital formed three teams to design and carve their very own pumpkins. Of course, we also had some sweet treats to celebrate the occasion.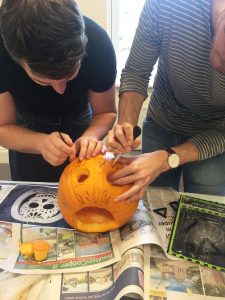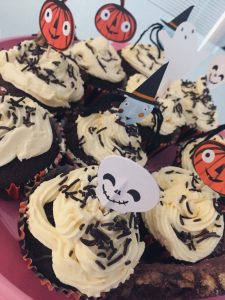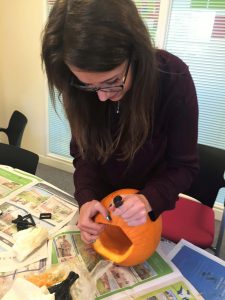 The teams were divided as follows:
Team Earth – Matt & Burty
Team Mercury – Lucy, Rich & Beth (B2)
Team Venus – Ellie, Michelle & Beth (B1)
We also had a late entry come in on the day by Ciara, Michelles daughter, who we included in the competition.
Each team was provided with a pumpkin carving kit, newspaper, and of course, a tealight. Teams were given just 30 minutes to carve their pumpkins. This may seem like a good length of time, but we soon found out that time goes quickly when it involved scooping out the pumpkin, drawing the design as well as the carving. The use of a template was permitted, however, with the Blue Digital creative's being spread amongst teams, all teams decided to take a risk and draw the designs straight onto the pumpkins!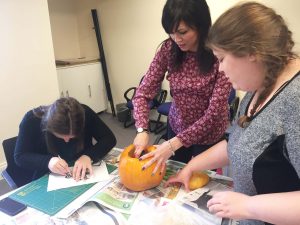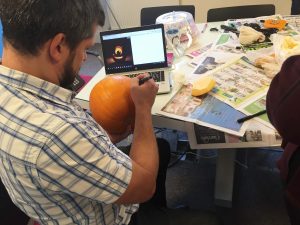 The teams worked together to design and carve the pumpkins; some teams decided to split tasks by strengths, whilst others decided to just simply split all tasks equally. The final designs included a Mexican-inspired calavera pumpkin from Team Earth, a stencil design from Ciara, a spooky face from Team Venus and a Mike Wazowski pumpkin created by Team Mercury.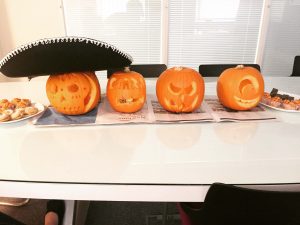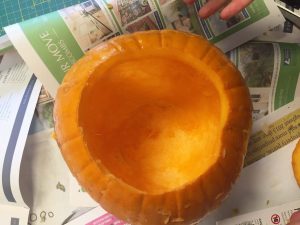 We left voting in the great hands of the social media! There was a space of an hour given between the end of the carving and the announcement of the winner, in order to give people a chance to like and share on their social media accounts. At 2pm, the results were tallied up from both Twitter and Facebook in order to determine the winner.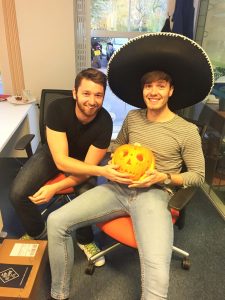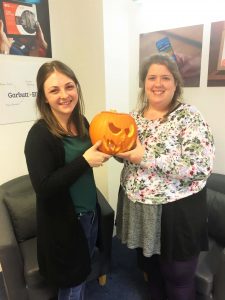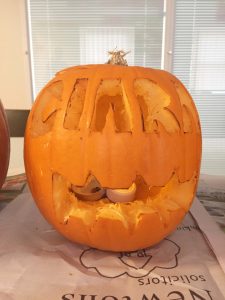 Finally, the winner was announced! The prizes were awarded to Team Mercury who produced the Disney-inspired, Mike Wazowski pumpkin! With Rich, Blue Digital's Head of Creative in their team, it has to be said that they did stand a good chance of winning. Each member won a spooky Halloween goodie for their desks. Arghhh!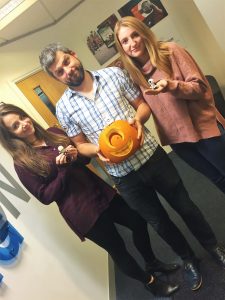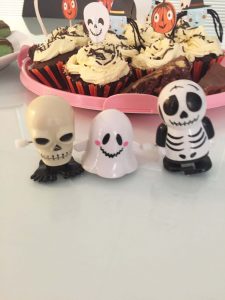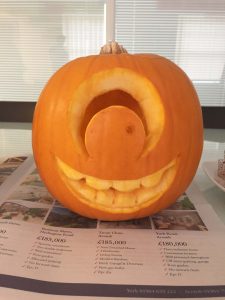 The rest of the day was spent finishing off the Halloween treats…it can't get any better than that!